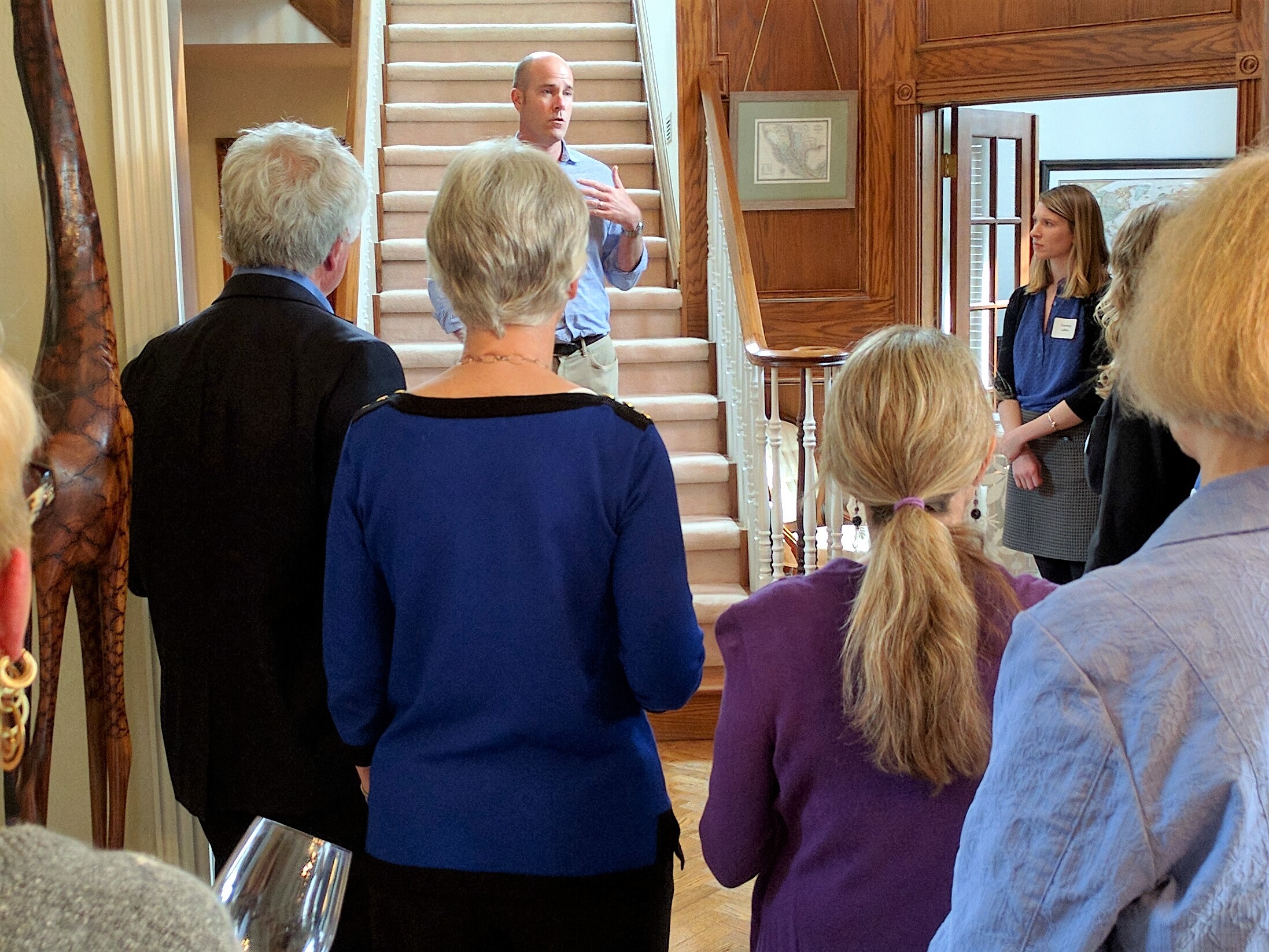 The Sierra Club has had a minority ownership stake in Green Alpha Advisors, LLC since 2008. Green Alpha has managed the Sierra Club Green Alpha investment strategy since December 2010, using both Green Alpha's Next Economy investment philosophy and the Sierra Club's proprietary environmental and social criteria. It has been a fantastic working relationship, so when we heard that Sierra Club Executive Director Michael Brune was going to be in Boulder to launch the Ready for 100 campaign, we jumped at the opportunity to host him for a gathering of friends. In addition, Betsy Moszeter, Green Alpha Advisors Chief Operating Officer, sat down with Brune for a quick Q&A on hiking, the Sierra Club's Beyond Coal & Ready for 100 campaigns and other topics.
Betsy: Welcome to Boulder! This area is known for its phenomenal hiking, one of my favorite outdoor activities.  What's your favorite hike in Colorado?
Michael: I spent a summer in Boulder about 20 years ago, and my favorite hike is the Bear Peak Trail, starting at the National Center for Atmospheric Research. It is a gorgeous trail right on the edge of the Front Range, so you can see deep into the Rockies. It is very accessible, yet difficult enough to be really rewarding.
Betsy: We're in the midst of one of the strangest presidential elections in history. What is Sierra Club's sense of the election and how do you anticipate moving forward with whomever is in the new administration?
Michael: On environmental issues, this presidential election will have the greatest contrast between candidates that we've ever seen. We will likely have either Cruz or Trump vs. either Hillary or Bernie. One camp wants to move aggressively on climate change. The other camp aggressively denies that climate change exists, at a time when we've actually made great progress.
At the Sierra Club, our members are responding to this election like we've never seen before. They are volunteering to phone bank, knock on doors, or get involved in many other ways. They're also responding with great frustration and exasperation to the erosion of our democracy—whether it's the taking away of voting rights or the gross amount of money that's coming into politics. We have started Partnering for Democracy, a project among dozens of organizations to address the fundamental challenges to our democracy around voting rights, money in politics, and redistricting. We are complimenting that with our traditional work of electing champions and voting out people who don't belong in office.
Betsy: From the Paris Talks to the World Economic Forum, climate change has taken center stage with world leaders. Are you optimistic we'll take tangible action to slow or stop the climate crisis?
Michael: I'm very optimistic, because we already have taken significant action. This isn't the first time that climate change has been on the ascendency. If you look back ten years ago when The Inconvenient Truth was released, you would see cover stories in Sports Illustrated about climate change. There was a lot of talk then about needing to transition to the next economy, but it fell flat for a while. Some progress was made but not nearly as quick or substantive as it is now.
What we're seeing now is more than 190 countries have made formal commitments to cut their own carbon. China has made a profound, history-making commitment. India has done the same. The U.S. is making progress. So you're seeing international collaboration like we've never seen before. And domestically we're seeing a rapid shift to clean energy. In part, it's because of a strong and diversified movement that's pushing for it, but also because we're enjoying the lowest prices for wind and solar that we've ever seen. People know that they can power their lives and businesses with clean renewable energy.
Betsy: Speaking of energy, Peabody Energy, the largest U.S. coal company, recently declared bankruptcy — the latest in a string of coal company bankruptcies. What's the future of coal in the U.S. and what role will the Sierra Club's Beyond Coal campaign and other initiatives play in shaping the future of energy.
Michael: It's clear to most everyone that coal is not a viable fuel source for the future of electricity generation. We've seen 50 bankruptcies since 2012 in the coal industry. But it will take some years before we completely move beyond coal and natural gas. The challenge is how long it will take to make that transition to genuinely clean, renewable energy like wind and solar, and how will we take care of the workers and the communities that are dependent on coal and natural gas?
Coal companies will come out of bankruptcy and many will continue mining at a reduced rate. Utilities will continue to burn coal. So we have a lot of fights still to be fought. But the Sierra Club has helped retire hundreds of coal plants and we'll continue to win those fights.
Betsy: As you know, Green Alpha Advisors is focused on investing in companies that offer innovative sustainability solutions. How will financial markets and investors influence the transition to a sustainable economy?
Michael: Now more than ever, financial services, banks and others will play a critical role in helping us evolve to a sustainable economy. The challenge that we have with climate change is a financing challenge. Fuel is free. We don't pay a charge for the sun to shine and the wind comes every day for free. Heat from the earth in the form of geothermal energy is free. Tides ebb and flow—that comes for free. When we make investments in clean energy, they will pay over time. So the inherent challenge is—how do we use financing to move away from incumbent fossil fuel assets and invest in solutions that are sustainable for our society and our economy?
Betsy: How is the Sierra Club helping to make these investments?
Michael: The work we're doing in our coal campaign to retire half of the coal fleet by 2020 is opening up market share for wind and solar, energy storage, geothermal tidal energy and energy efficiency. We are also simultaneously intervening in more than 100 dockets across the country working with regulators to transition beyond coal or gas and scale up to clean energy. Our chapters have been advocating for renewable portfolio standards or energy efficiency resource standards. We are encouraging members to vote with their dollars as well—to act as both consumers and investors, and as well as voters—by aligning their dollars with their values and making sure they're supporting companies and industries that are part of the solution and not part of the problem.
Betsy: What future/legacy do you hope to leave your children Olivia, Sebastian, and Genevieve?
Michael: One critical legacy: They're going to inherit an economy that's powered by clean energy. My youngest daughter is three years old. By the time she graduates from high school more than half of the electricity in California will come from clean energy. So when I think about the world my kids will grow up in, I am concerned about the impacts that climate change will have on their lives and the places and people we love. But I'm more often filled with hope and excitement and anticipation because the solutions to climate change don't just solve climate change, they help to address a lot of other issues—economic resiliency, increased wealth, increased prosperity, increased jobs. 


###
Important Disclosures https://greenalphaadvisors.com/about-us/legal-disclaimers/