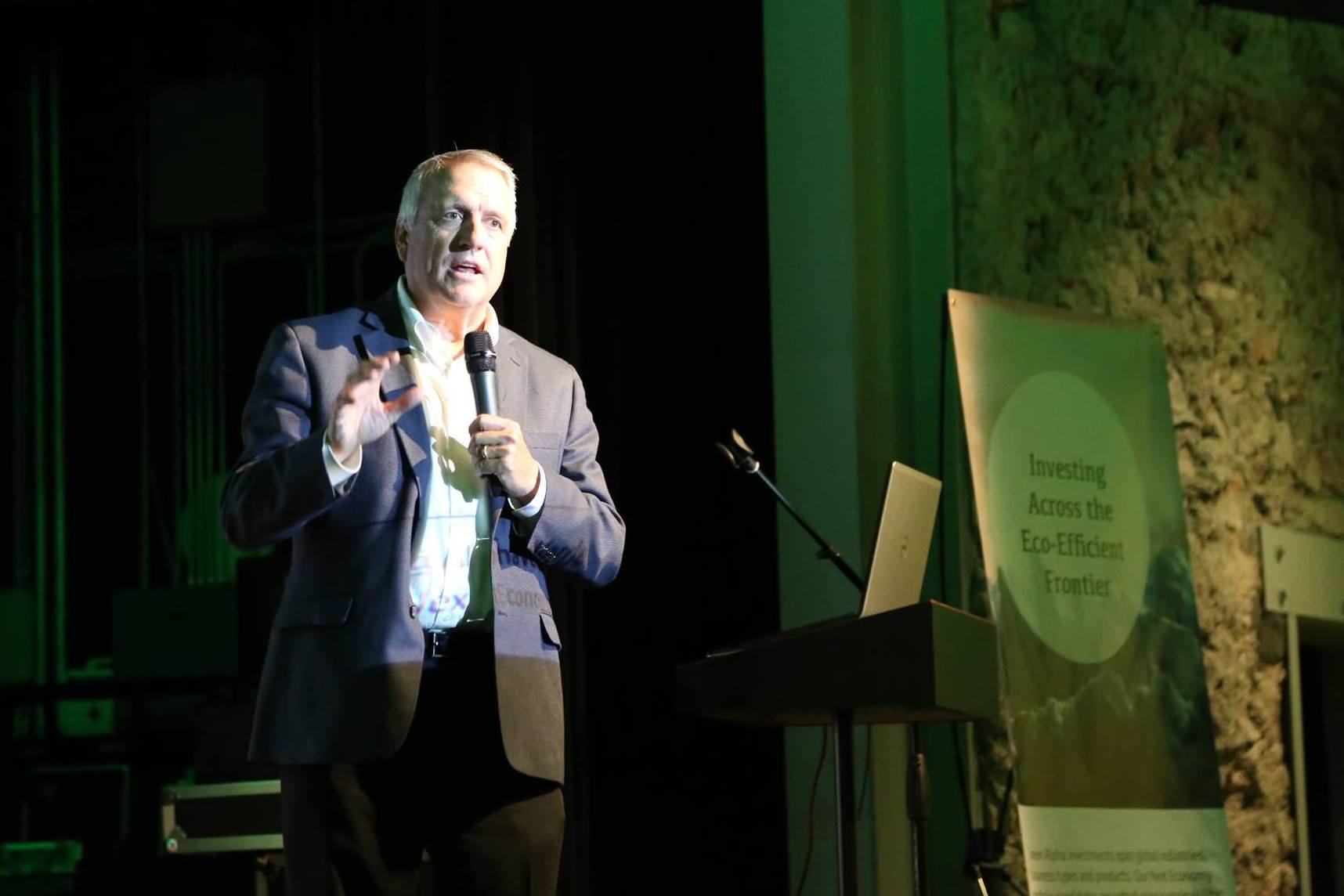 Bill Ritter, the 41st Governor of Colorado and an international leader in clean energy, joined Green Alpha's Advisory Board in 2015. He has already proved to be invaluable to the firm, providing the Executive Team with key strategic advice and insights that are so important to a growing enterprise.
As the architect of Colorado's New Energy Economy, Ritter established Colorado as a clean energy leader, enacting policies that included a 30% Renewable Portfolio Standard and a Clean Air Clean Jobs Act.
He currently serves as founder and director of the Center for the New Energy Economy (CNEE) at Colorado State University, an energy policy research institute providing technical and strategic assistance to help facilitate America's transition to a clean energy economy.
Ritter spoke at the Shelton Green Alpha Fund's 3-year birthday party at eTown Hall. Prior to the presentation, Betsy Moszeter, Green Alpha Advisors Chief Operating Officer, sat down with Ritter to discuss his new book, Powering Forward: What everyone should know about America's energy revolution, and other topics.
Betsy:  Welcome to Boulder! You're a Colorado native; what do you love best about the state?
Gov. Bill Ritter: As Governor, I once appeared before the U.S. Senate Committee on Environment and Public Works and a Senator hostilely asked:  "Why do you all think you're so different in the west?"
The answer I gave to the Senator is that people in the west – and particularly in Colorado – have a different relationship with the land. I don't know that we think of ourselves just as stewards, but we really feel a part of it. And so the thing I love best about Colorado is that we have this unique relationship with nature—that we co-exist with the natural order.  More than anywhere else I've ever been, Coloradoans have a strong sense of connection to the land.
Betsy: As the 41st Governor of Colorado, you worked to establish a new energy economy for the state. Looking back, where these did efforts make the greatest impact?
Bill: I signed 57 different bills that were clean energy bills over 4 years—that's likely more clean energy bills than any governor has signed in a single term. We made great strides in transforming the energy system—preparing the biggest utilities to provide 30% renewables by 2020, protecting rate payers and building a New Energy Economy to scale.  Significant job creation was also part of our program, and that is continuing. Excel Energy recently announced they will build another 600 megawatt wind farm—all with turbines manufactured by Vestas in Colorado.
Those are examples of things that turned out well, but more needs to be done. For instance, there is a nexus between energy use and water use. As a state, we need to study that relationship and in the process protect Colorado's water resources.
Betsy: In your book, Powering Forward, you write about shifting the dominant consciousness of a fossil fuel economy. What will drive this shift ultimately?
Bill: One of the chief drivers is public policy—as a Governor and policy maker that's certainly been my orientation. But it will be a combination of factors that will continue to power forward the historic energy revolution that is underway in the United States.
We need innovative technology, smart policy, public and private financing and a commitment from business to create energy markets that remain affordable and reliable. At the heart of this interplay of factors is the need to put environmental concerns—specifically climate change—as the top priority. It's happening now, here in Colorado and across the country.
Betsy: In the book you emphasize the need to find common ground and engage in political bipartisanship. How can we do this when we are in the midst of one of the most polarizing elections in our history?
Bill: On the national level, we are a polarized country. But I'm seeing a lot of common ground among governors. There's also a climate caucus in the U.S. House of Representatives and there have been climate resolutions proposed by Republicans in the U.S. Senate. So, I believe we are witnessing some progress on finding common ground already.
Still, there is too much partisan bickering. We've got to get past that, stop shouting down each other and have rational conversations with people who might not agree with us about climate change. Whether it is national security, risk management, threats to businesses and business models, or the massive business opportunities to build a global 21st century economy with 21st century profits, we need to bring people from both sides of the aisle together and find common ground.
Betsy: At Green Alpha, we invest in solutions to climate change and other systemic risks. What role do you think the financial markets and investors are playing and will continue to play in the energy revolution?
Bill: Financing mechanisms are clearly one of the key drivers for this clean energy revolution. But it is also the markets that are driving change as well. The three largest coal companies in Wyoming are bankrupt, and at the same time, investors deployed more than $321 billion into clean energy projects in 2015. Those two things go hand in hand.
Investments in clean energy are happening in homes and businesses and in the bond and stock markets where Impact Investing is growing rapidly. And investors are pushing this forward. Shareholders are demanding more information from publically held companies about the risk of climate change. Asset managers, like Green Alpha and others, are responding, making socially responsible and impact investing available to all investors. That involvement of markets and investors is going to be a significant part of this transition.
Betsy: You spoke at COP 21, which brought 196 nations together in a historic agreement to scale back carbon emissions across the globe. What were some of the most important things you took away from that?
Bill: First, being in Paris made it crystal clear that the scope and level of engagement around climate change is global. The second takeaway is that the people who will be hit first and worst will by climate change are the poorest among us.  This is something I understood indirectly but talking to people and listening to presentations drove home this very unfortunate fact of climate change.
It was also interesting in Paris how much small nations influenced the climate talks. It was unlike anything I've seen before at an international scale. The Solomon Islands were talking about the toll they are experiencing from rising oceans. The Foreign Minister of the Marshall Islands had a hugely disproportionate role in the Paris talks, again because they are a group of islands that face actual extinction.
There really is real hope and a global consensus that we must address climate change, and that we must act together.  It might not include the United States Senate's Republican majority for the time being, but the rest of the globe is on board here, and we need to be too.
Betsy: You were part of an international delegation last year that met in Rome prior to the release of the Pope's Encyclical on climate change. What was the purpose of your conference? Did you interact with the Vatican and what are your thoughts about the Encyclical itself?
Bill: I was the only American in this delegation of about 21 people. We had climate scientists, social scientists, economists, and me, as a formally elected U.S. state governor. Speaking in the vernacular, we were there to back the Pope's play on the encyclical he was about to release. Not that the Pope needs that but that was part of the interaction. Our delegation was there to say to the Vatican, "the science is behind you, the economics are behind you."
The Encyclical itself is perhaps the best modern world view I've read. I might not agree with everything in the Encyclical, but I don't think you can argue with how well thought out it is, how well stated it is, how articulate it is—in a way, beautifully prosaic. It flows in a way that most writing about technical issues or science issues do not flow.
And finally, I'll say, I think the Pope makes this critically important link between environmental degradation, which climate change is a part of, and ties it to economic inequality among the world's poor.  To solve one we need to solve the other. We need to tackle those two together.
Important Disclosures https://greenalphaadvisors.com/about-us/legal-disclaimers/