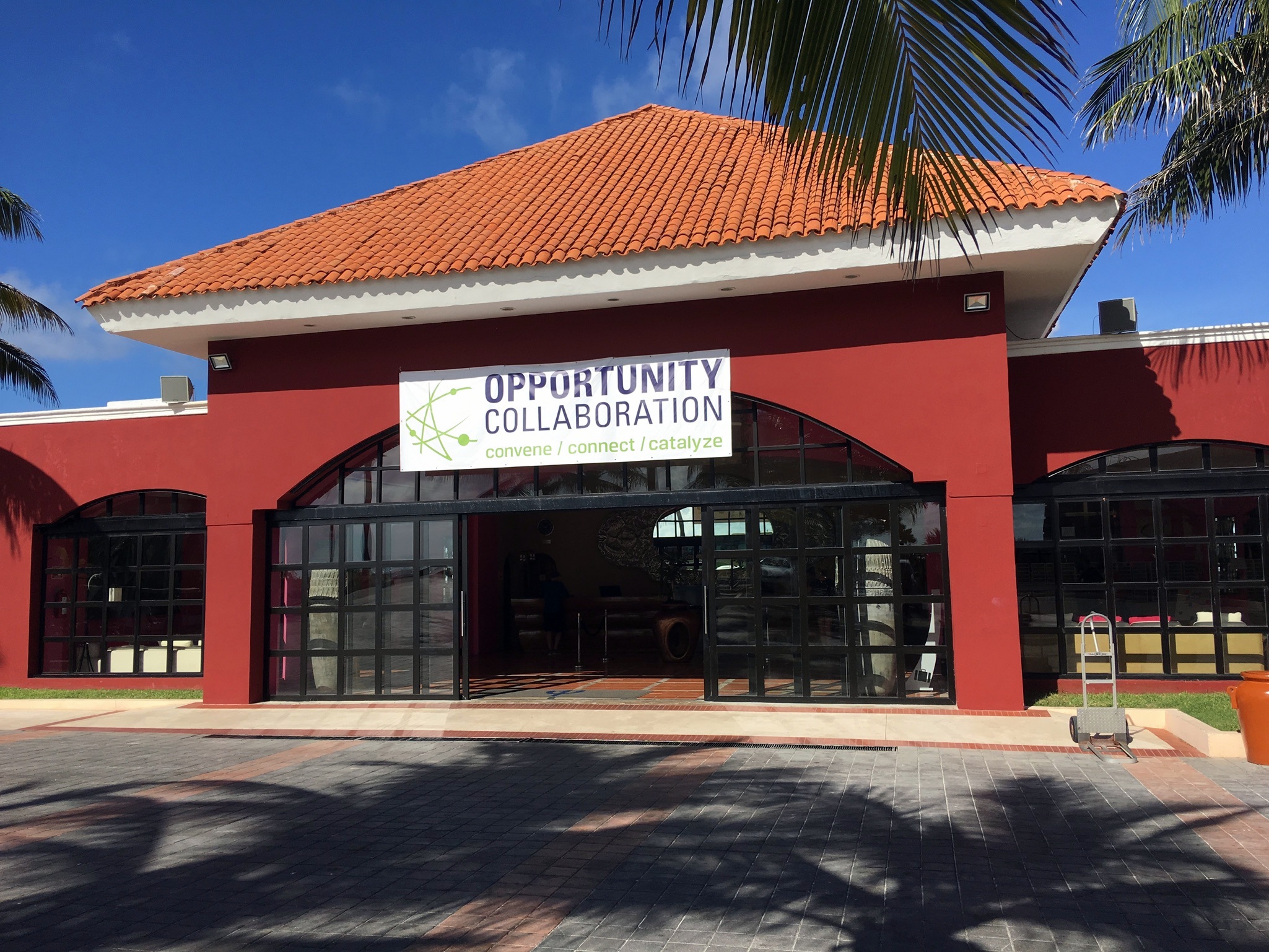 Betsy Moszeter, Green Alpha's Chief Operating Officer, was privileged to attend Opportunity Collaboration, an annual conference that brings together thought leaders in social change from around the world, to catalyze new paths to success.
Among the attendees was Olivia Dell, a student at Colorado College who brings a unique perspective to sustainable and impact investing. Betsy and Olivia had a great time getting to know each other, and co-wrote this blog to share some of what they learned from each other.
You traveled extensively during your gap year between graduating high school and attending Colorado College. Where did you go and how did your experiences shape what you are focusing on at CC?
I joined Thinking Beyond Borders, because I wanted it to be a year of exploration and learning, not rest.  In South Africa I worked alongside heath care givers and learned about public health as a system. In Jaipur I had a chance to be a teacher.  In Chang Mai we worked with host families to maintain the house, feed the animals and anything else needed to survive on a self-sustaining farm.  The list goes on and on.
My gap year ended with in Washington, D.C., studying government and the ways we can contribute to the global charge against poverty and inequity.  We met with a variety of organizations, such as the World Health Organization, Peace Corps and our own U.S. Representatives.  The experience was enlightening and gave me a glimpse into some of the ways I can work to progress sustainability and fight inequity.
A year spent doing such incredible things really gave me an understanding of the life I want to live, and it set me on the path towards majoring in Sociology at Colorado College.
How has that changed since starting school?
Majoring in Sociology has helped me further explore how I might go about diving into the world of sustainable development.  I have been exposed to campus organizations, faculty-led discussions, and other activities showing me practical examples of the work I can do to be an agent of positive change.
I'm particularly interested in the combined role that finance, economics and marketing plays in shaping incentives that drive consumption. Thinking about the interconnectedness of these topics leads me to wonder how the powerful force of consumption can be driven in the direction of sustainability.
I'm really glad we met at Opportunity Collaboration! What was your favorite part of the week?
I'm so grateful to have had the opportunity to interact with so many people who are truly making the world a better place.  It was incredibly inspiring to hear personal stories from all over the world of those who are dedicating their lives to creating a meaningful impact in a wide variety of ways. The community at the Opportunity Collaboration is truly one-of-a-kind!
Specifically, the most meaningful aspect of the conference for me was hearing about how individuals got to the point of being leaders in social justice and sustainability. For so many people my age, there is a daunting feeling that we're not following the "right" path to "success."  Hearing journeys of these great leaders gives me hope, knowing there's no "right" path, but rather, hundreds of possible ways to become the leader I am striving to become.
You and I had some great conversations about the myriad ways in which people can have intentional impact on society through their money. And you asked great questions about impact investing.  What most surprised or interested you about impact investing?
When I first learned about impact investing through Thinking Beyond Borders, I was excited to have found something practical that everyone can do to make a meaningful difference.  Some people don't make sustainable lifestyle choices, because they feel like it's just too hard.  Impact investing presents a relatively easy way for each person to create a shift in the economy with very large impacts, helping us transition to the "next economy" by delivering more sustainable solutions, such as renewable energy and other products that are less resource intensive.  Now that I know how much I didn't know, I'm passionate about finding ways to educate others.
What draws you to investing as a way to have positive impact on society?
As a young woman about to enter the workforce, I've thought about the ways in which I want to make a difference in the world. I learned about impact investing through Thinking Beyond Borders, but didn't fully understand the potential it has to create change until I met you.  I was so excited by all you taught me that I then did a ton of research on my own. Impact investing appeals to me, because it allows me to stay competitive in this highly monetized world while remaining committed to a sustainable lifestyle.
What has been a favorite recent conversation with a classmate or professor about using influence to create meaningful change?
I had a great conversation with one of my professors about how changing the face of consumption could create environmental change.  We discussed our consumption habits as a form of "religiosity" and I began to wonder why the things we consume are often exploitative and detrimental to the environment.  We dove deeper into the culture that influences consumption, and spent time discussing the cultural shift that has begun to occur regarding sustainability.
Consumers are putting pressure on companies to be more sustainable, and voting with their dollars to create change.  This gives me hope that we can change the world by holding companies accountable for the practices necessary to evolve for us to thrive.
You're starting to look for a summer internship; what types of roles or companies are you looking for?
I want work for a company whose business model supports the future I want to see come to fruition.  While not all companies have made a commitment to sustainable practices, there are many that hold sustainability very highly and are making strides in the right direction.  So far, I have applied to an internship at a professional learning platform in Austin called GLG as well as a social media management firm.
I'm still researching companies to find ones that promote the social and environmental responsibility I'm looking for.  I know I'm young and have a lot to learn, so I'm open to exactly what the role would entail, as long as it's with a company that exhibits the characteristics I'm increasingly learning are important to the fate of our future.
###
Important Disclosures https://greenalphaadvisors.com/about-us/legal-disclaimers/