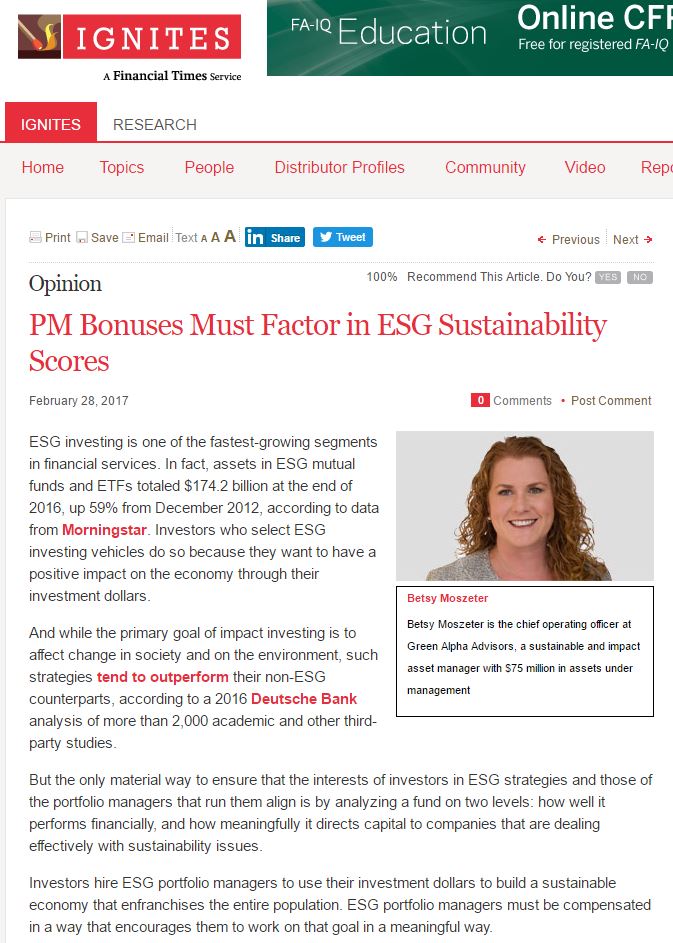 Originally published by Ignites http://ignites.com/c/1577473/183663
By Betsy Moszeter
ESG investing is one of the fastest-growing segments in financial services. In fact, assets in ESG mutual funds and ETFs totaled $174.2 billion at the end of 2016, up 59% from December 2012, according to data from Morningstar. Investors who select ESG investing vehicles do so because they want to have a positive impact on the economy through their investment dollars.
And while the primary goal of impact investing is to affect change in society and on the environment, such strategies tend to outperform their non-ESG counterparts, according to a 2016 Deutsche Bank analysis of more than 2,000 academic and other third-party studies.
But the only material way to ensure that the interests of investors in ESG strategies and those of the portfolio managers that run them align is by analyzing a fund on two levels: how well it performs financially, and how meaningfully it directs capital to companies that are dealing effectively with sustainability issues.
Investors hire ESG portfolio managers to use their investment dollars to build a sustainable economy that enfranchises the entire population. ESG portfolio managers must be compensated in a way that encourages them to work on that goal in a meaningful way.
The portfolio manager's bonus, which is material in any investment management compensation model, should be weighted toward two main factors:
Portfolio
As with all mutual funds, performance is measured by comparing the portfolio to an appropriate peer group (for example, mid-cap growth mutual funds). If funds don't perform well financially, portfolios won't make a material impact.
However, measuring "non-performance" impact is equally important, since investors in these products want the manager to serve an objective in addition to making them money. While it has historically been hard to measure how sustainably a fund is invested, new data analysis tools can help in that assessment. Sustainalytics, for example, examines criteria such as tons of carbon per dollar of revenue or whether underlying companies use renewable energy.
When using such data to align the interests of both parties, transparency is critical. The portfolio manager's compensation package should be evaluated based on publicly available information.
One resource that both investors and fund complexes can use to measure sustainability is Morningstar's mutual fund sustainability ratings, which ranks products on a five-"globe" scale. Morningstar also includes peer rankings that show how the fund ranks relative to others — including those not designated as ESG — within the same style box. Using these data points, investors can evaluate how well a fund is managing ESG investing factors.
One example is automobile manufacturing. The data sourced by Morningstar evaluates the fleetwide product mix's average mile-per-gallon gas consumption, and how those companies work to minimize negative impact on the environment. For example, those that use less water or energy in their manufacturing processes would rank higher.
Another resource is FossilFreeFunds.org, which tells investors whether any holdings in a mutual fund represent companies that produce high levels of carbon emissions, are big polluters or are fossil-fired utilities. The website is part of As You Sow, a nonprofit supported by several charitable organizations, including the Franciscan Sisters of Mary, and makes its evaluations based on data from Morningstar, Brightscope and other partners. Giving investors better information about what's actually held in each fund helps them make better purchasing decisions.
Similarly, DeforestationFreeFunds.org indicates whether a mutual fund holds shares in any palm oil companies, banks or lenders that finance palm oil companies or major consumer brands that buy palm oil for use in their products. This fund evaluation tool is a collaboration among three advocacy organizations: Friends of the Earth, As You Sow and Earth HQ.
Education and Outreach
No money manager can have material impact on the economy without the dollars invested in their strategies with which to effect change. A portfolio manager's bonus calculation should also consider the growth of total fund assets tied to ESG products, whether she or he has published any white papers addressing ESG factors, the quality of any conference speaking engagements and other public education activities.
Effective public outreach and education about the importance of directing assets away from the causes of global systemic risks toward companies that offer solutions is critical to effecting economic change.
No one factor should determine a portfolio manager's bonus. As many relevant, practical and available data points as possible should be included. Each category on which a portfolio manager is evaluated should receive an independent score, using objective criteria and data points in order to ascertain whether managers are truly using their positions to effect positive change in the economy, and impacting how society invests.
###
Important Disclosures https://greenalphaadvisors.com/about-us/legal-disclaimers/