Extreme Volatility, Dovish Fed Stance Drive Mixed Results Across Next Economy
Boulder, Colorado (April 20, 2016) – Green Alpha ® Advisors, an asset management firm specializing in innovation-driven, fossil fuel free equity portfolios minimizing economic risks associated with climate change and resource scarcity, announced today that its Green Alpha Next Economy Index (GANEX) finished the quarter down -1.20%,  while the S&P 500 Index was up 1.35%, the WilderHill Clean Energy Index (ECO) which tracks the clean energy sector was down -15.01%, and the MSCI All Country World Investable Market Index (MSCI ACWI IMI) was up 0.44%.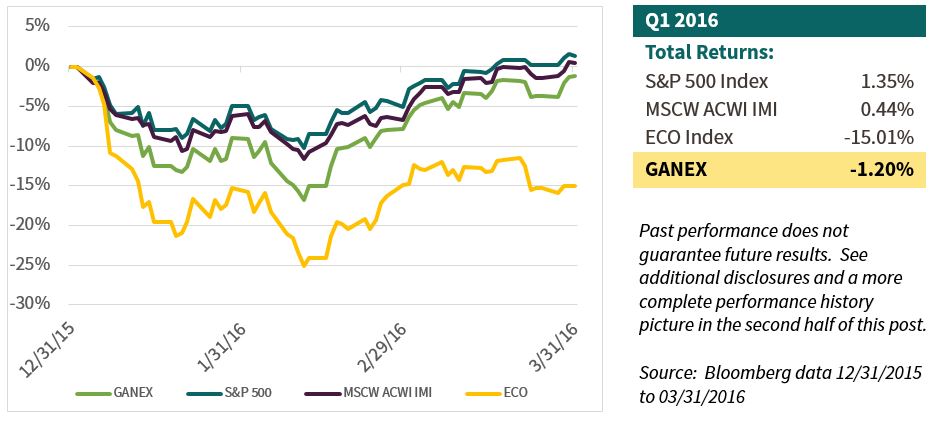 The GANEX, established December 30, 2008, is the oldest broad-based, fossil fuel free market index in the U.S., providing investors with a critical benchmark of investment performance through different market cycles. The market cap-weighted index of currently approximately 90 securities has generated 94.34% in cumulative total returns since inception.  Please see the chart on page two for more complete performance history information, including comparison data.
"The first quarter of this year was one for the record books," said Co-Portfolio Manager Jeremy Deems.  "It set records for the worst four-day, one-week, and ten-day start to the year ever for broad indices. Perhaps even more impressively, the Dow Jones Industrial Average posted its greatest comeback since 1933, falling over 10% by the first half of February, and then rising for 6 straight weeks to finish just slightly in the green by March 31st. Renewable energy holdings continue to exhibit marked lower valuation ratios; however, and stronger growth projections."
ABOUT THE GREEN ALPHA NEXT ECONOMY INDEX (GANEX)
The GANEX is managed using traditional, bottom-up research paired with a compelling, macro-economic growth thesis based on scientific, demographic and climate trends. Green Alpha begins the investment process by asking, "Does a company, in aggregate, contribute to or mitigate the systemic risks of resource scarcity, climate change or population growth?" The resulting list of Next EconomyTM candidates are then vetted using time-tested growth and valuation methodologies.
The GANEX is an indexed-product designed to reflect and benchmark the Next Economy. It exists to:
Define all aspects of the Next Economy; green, self-sustaining, eco-efficient, fossil fuel free
Demonstrate the diversity, growth, breadth and depth of the Next Economy
Provide a universe of Next Economy companies from which to draw for actively managed portfolios (SCGA, NEXTX, GAGIP, NGS)
Serve as a performance benchmark for sustainable active, public equity investment strategies

IMPORTANT DISCLOSURES
Performance data quoted represent past performance. Past performance does not guarantee future results and current performance may be lower or higher than the data quoted. GANEX performance results reflect actual performance for a representative account, net of actual management fees and transaction costs. Assets managed to the GANEX strategy in the representative account receive a reduced fee from the standard fee schedule.  GANEX performance results do not reflect the reinvestment of dividends and interest.  Extreme periods of underperformance or outperformance are due to the concentrated nature of the strategy and the impact of specific security selection. Such results may not be repeatable.
Green Alpha portfolios may invest in companies with small and medium market capitalizations. Small or medium-sized companies may have more limited product lines, markets and financial resources than larger companies.  In addition, their securities may trade less frequently and in more limited volume than those of larger companies.  Small or mid-cap stocks may be more volatile than those of larger companies and, where trading volume is thin, the ability to dispose of such securities may be more limited.
Green Alpha portfolios may invest in foreign domiciled companies. Investing in foreign securities may involve certain additional risks, exchange-rate fluctuations, limited liquidity, high levels of volatility, social and political instability and reduced regulation.  Emerging markets are often more volatile than developed markets, and investing in emerging markets involves greater risks.  Given the potential increased volatility of Green Alpha strategies, an investment in Green Alpha portfolios should be considered a long-term investment.
The S&P 500 Index is an unmanaged index of 500 common stocks chosen for market size, liquidity and industry group representation. It is a market-value weighted index.  The S&P 500 Index figures do not reflect any fees expenses or taxes.  Investors cannot invest directly in this index.
The SPDR S&P 500 ETF (SPY) seeks to provide investment results that, before expenses, correspond generally to the price and yield performance of the S&P 500 Index. Investors can invest directly in SPY.
MSCI ACWI IMI: The MSCI ACWI Investable Market Index (IMI) captures large, mid and small cap representation across 23 developed markets and 23 emerging markets countries.  With over 8,600 constituents, the index is comprehensive, covering approximately 99% of the global equity investment opportunity set.  Investors cannot invest directly in this index.
WilderHill Clean Energy Index (ECO): The WilderHill Clean Energy Index is composed of stocks of companies that are publicly traded in the United States and engaged in the business of advancement of cleaner energy and conservation.  ECO is rebalanced and reconstituted quarterly.  Investors cannot invest directly in ECO.
All performance data are sourced from Bloomberg Finance L.P.
ABOUT GREEN ALPHA ADVISORS, LLC
Green Alpha Advisors is an asset management firm, founded in 2007 on the belief that in order to live and thrive on our planet, we must make an inevitable economic and technological transition to sustainability. Our investment strategies address core economic concerns emerging from the risks associated with resource scarcity and the worst effects of climate change – both exacerbated by population growth.  We see innovations that simultaneously address these core systemic risks and improve economic productivity as the greatest growth drivers of the 21st century.  Green Alpha is proudly a Certified B Corporation**.
** B Corps are for-profit companies certified by the nonprofit B Lab to meet rigorous standards of social and environmental performance, accountability, transparency and aspire to use the power of markets to solve social and environmental problems.  This certification does not represent a statement of any Green Alpha client and does not describe any experience with or endorsement of Green Alpha as an investment advisor by any such client.
MEDIA CONTACT
Morrison Shafroth
720-470-3653
pr@greenalphaadvisors.com