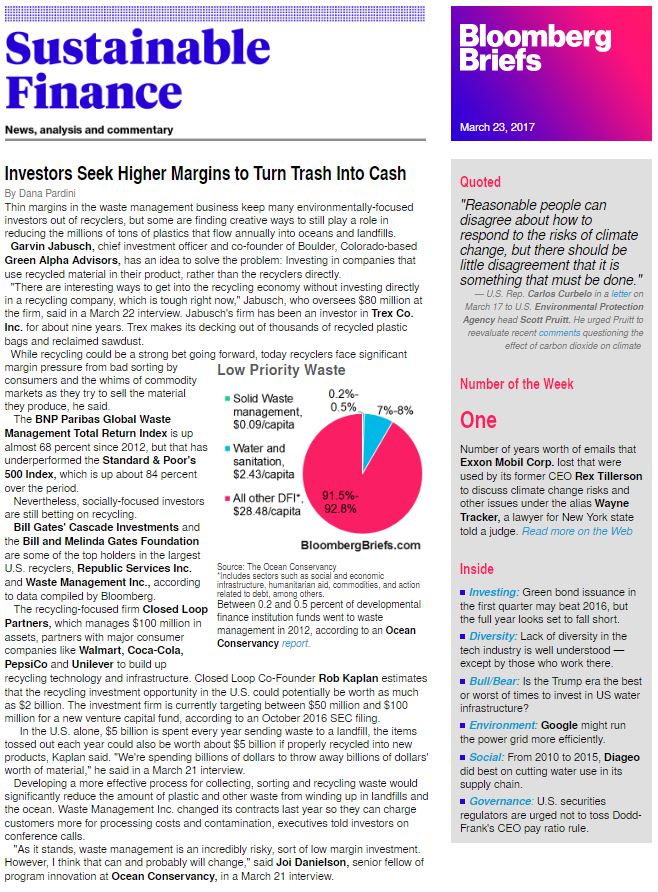 Originally published by Bloomberg Briefs
By Dana Pardini
Thin margins in the waste management business keep many environmentally-focused investors out of recyclers, but some are finding creative ways to still play a role in reducing the millions of tons of plastics that flow annually into oceans and landfills.
Garvin Jabusch, chief investment officer and co-founder of Boulder, Colorado-based Green Alpha Advisors, has an idea to solve the problem: Investing in companies that use recycled material in their product, rather than the recyclers directly.
"There are interesting ways to get into the recycling economy without investing directly in a recycling company, which is tough right now," Jabusch, who oversees $80 million at the firm, said in a March 22 interview. Jabusch's firm has been an investor in Trex Co.Inc. for about nine years. Trex makes its decking out of thousands of recycled plastic bags and reclaimed sawdust.
While recycling could be a strong bet going forward, today recyclers face significant margin pressure from bad sorting by consumers and the whims of commodity markets as they try to sell the material they produce, he said.
The BNP Paribas Global Waste Management Total Return Index is up almost 68 percent since 2012, but that has underperformed the Standard & Poor's 500 Index, which is up about 84 percent over the period.
Nevertheless, socially-focused investors are still betting on recycling.
Bill Gates' Cascade Investments and the Bill and Melinda Gates Foundationare some of the top holders in the largest U.S. recyclers, Republic Services Inc.and Waste Management Inc., according to data compiled by Bloomberg.
The recycling-focused firm Closed Loop Partners, which manages $100 million in assets, partners with major consumer companies like Walmart, Coca-Cola, PepsiCo and Unilever to build up recycling technology and infrastructure. Closed Loop Co-Founder Rob Kaplan estimates that the recycling investment opportunity in the U.S. could potentially be worth as much as $2 billion. The investment firm is currently targeting between $50 million and $100 million for a new venture capital fund, according to an October 2016 SEC filing.
  In the U.S. alone, $5 billion is spent every year sending waste to a landfill, the items tossed out each year could also be worth about $5 billion if properly recycled into new products, Kaplan said. "We're spending billions of dollars to throw away billions of dollars' worth of material," he said in a March 21 interview.
Developing a more effective process for collecting, sorting and recycling waste would significantly reduce the amount of plastic and other waste from winding up in landfills and the ocean. Waste Management Inc. changed its contracts last year so they can charge customers more for processing costs and contamination, executives told investors on conference calls.
"As it stands, waste management is an incredibly risky, sort of low margin investment. However, I think that can and probably will change," said Joi Danielson, senior fellow of program innovation at Ocean Conservancy, in a March 21 interview.
###
This article should not be construed to be investment advice.  At the time this article was published, some Green Alpha client portfolios hold long positions in Trex Company Inc (ticker: TREX). This holding does not represent all of the securities purchased, sold or recommended for advisory clients.  You may request a list of all recommendations made by Green Alpha in the past year by emailing info@greenalphaadvisors.com.  It should not be assumed that the recommendations made in the past or future were or will be profitable, or will equal the performance of the security cited as an example in this article.  Not all Green Alpha separate accounts or our sub-advised mutual fund hold the stock mentioned in this article.  To inquire whether a specific Green Alpha portfolio(s) holds stock in any particular company, please call or email us.  Please see additional important disclosures here https://greenalphaadvisors.com/about-us/legal-disclaimers/