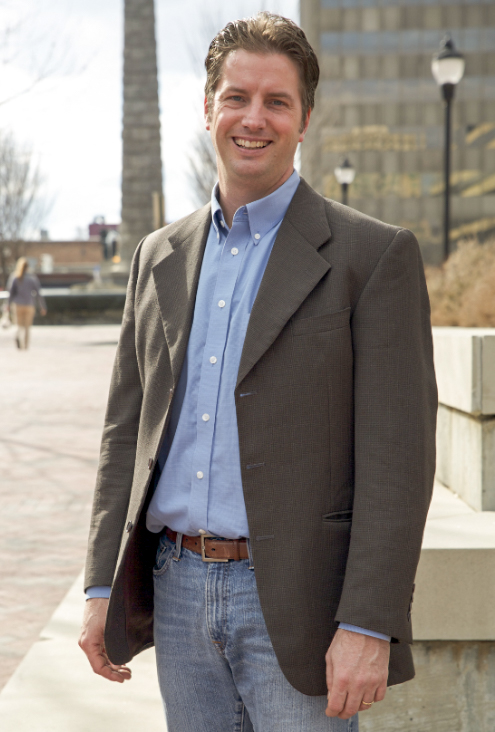 Peter Krull founded Earth Equity Advisors in 2004, because he wanted to give investors an opportunity to invest with their values. An outspoken advocate for the environment and social issues, and a well-known figure in Ashville's green business community, Pete truly walks the walk. He believes in giving back to his communities and has served as Chair of MountainTrue, the premiere environmental non-profit in Western North Carolina and several other nonprofit boards.
Pete and his wife Dr. Melissa Booth, a microbiologist and author, live in Asheville, NC, and we recently caught up with them in Boulder to talk about sustainable investing. A conversation between Pete and our Chief Operating Officer, Betsy Moszeter, is included below.
Betsy: What has been the key to enabling you to help clients be 'change makers' with their investments and achieve competitive returns?
Pete: The key is that we have great investment managers that we team up with, and that starts with a due diligence process to ensure the managers we work with are the real deal. We look under the hood to see what each manager's holdings are and we ask a lot of questions. I want to see that their holdings are truly socially and environmentally responsible. And, of course, they must produce competitive returns, be within an investment style that we need and be responsive.
Betsy: Demand for sustainable investing is growing, with nearly $9 trillion under management—a 33% increase since 2014. What do you see driving this rapid growth among individual and institutional investors?
Pete: This rapid growth is being fueled by awareness and quality. Education is a huge part of our job—simply making people aware that they can invest in a way that is aligned with their values and get competitive returns. The more people know, the more they can make educated decisions. For a long time, responsible investing was a fringe movement. If you can picture the stereotype of the Birkenstock-wearing hippie, trying to invest, that's how it was viewed. Now, we have quality money managers generating competitive returns. I can confidently allocate to managers that are both values-based AND have extensive investment experience. It's a winning combination that continues to grow assets. We've seen it in our business and across responsible investing.
Betsy: Are there key sectors or industries that you believe will drive greater interest in sustainable and environmental investing?
Pete: I'm a big fan of innovation and technological solutions. Big data and the Internet of Things help find inefficiencies and make improvements. Of course, we're all searching for silver bullets that both solve society's problems and makes money for clients. I believe one silver bullet will be battery technology that is lighter, more efficient and tremendously scalable. It's coming. I'm just not sure where or when.
Betsy: As an impact investing leader, do you have advice for colleagues interested in developing impact-oriented investing advisory practices?
Pete: Don't buy into the greenwashing that we continue to see from so many investment houses and do your due diligence. Too many "ESG" funds are simply traditional investments 'lite.' There's still a lot of fossil fuels in them, as well as old economy stocks. Don't assume that because it has impact, green, or SRI in the name that you should put clients into the fund. Be very selective as you choose and your clients will thank you.
Betsy: Asheville, North Carolina has been described as a pocket of tie dye in a red region.  Do you see Asheville's influence and economic strength spreading across the region?
Pete: We are in a wonderful progressive bubble here in Asheville. But it is just that, a bubble. And it's like that in many places across the U.S. Cities tend to be more progressive, while rural areas are more conservative. But I am encouraged. For example, a bill was introduced into the North Carolina house this past session officially recognizing B Corporations. It was introduced by a Republican, Chuck McGrady from Hendersonville, just south of Asheville. Unfortunately, the bill didn't pass, but it is great to see that Chuck recognizes the importance of the B Corp ethic.
Betsy: You have an interesting offering called Re-vest for people of faith to align investments with values and concerns about climate change and the environment.
Pete: Yes, I've done a lot of work with several denominations. It starts with educating church leaders and parishioners on the merits of fossil fuel divestment and how it applies to endowments and personal investment accounts. We work closely with Creation Care groups as well. It is an area where we will see a lot of growth in the coming years because there really is alignment with both socially and environmentally responsible investments and religious mission.
Betsy: When you're not in working, what do you do for fun in Asheville, one of the most beautiful communities in the country?
Pete: Asheville truly is a fantastic place to live! From the outdoor activities to the art and music scene to the beer and food, it is all first class! In town, we like to visit New Belgium Brewing or Ginger's Revenge, eat at our favorite restaurants including farm to table pioneer, The Market Place and Curate, which serves authentic tapas. I'm a serious amateur photographer, so we'll head out to one of the national forests or Biltmore Estate, where we have annual passes. We also love to travel too! We spend a month in Costa Rica annually, in addition to skiing trips every winter.
# # #
Important Disclosures https://greenalphaadvisors.com/about-us/legal-disclaimers/