Mapping the Next Economy Investment Universe
Green Alpha believes that the most promising way to generate portfolio returns is to invest in companies that offer innovative sustainability solutions and avoid companies that contribute to resource scarcity and global warming. While much progress has been made in global economic and environmental sustainability, we are still a long way from an innovation-driven, global economy that allows humans to thrive on earth indefinitely. As we look to the future we envision the Next Economy; one that is ecologically efficient, helps mitigate climate change, promotes both energy security and national security and, importantly, helps produce high quality, enduring job growth.

Companies in Next Economy portfolios are selected because they are in some way working toward these goals. Each is a leader in its field and each has what we believe are above average prospects for growth. To qualify as a Next Economy candidate, a company must be an aggregate contributor to the global economy and the environment. Green Alpha's Next Economy approach isn't oriented towards incremental change. Instead, our portfolio managers identify the most innovative, future-oriented companies – around the globe and across every economic sector – that are working towards a world wherein the economy and our underlying ecosystems can thrive indefinitely.

---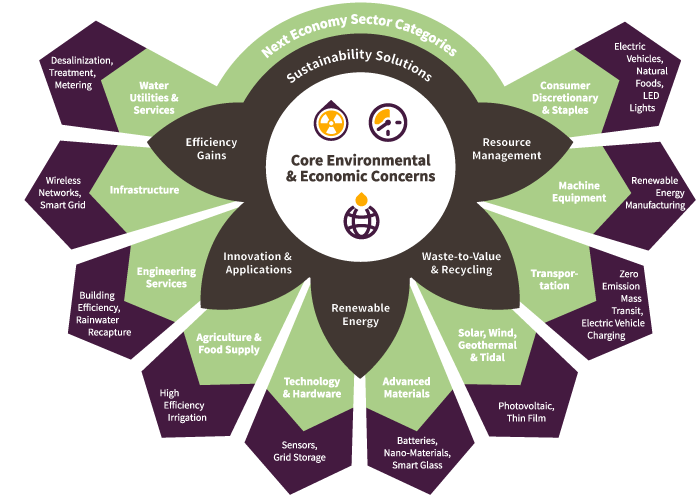 From Legacy Economy to Next Economy
The Green Alpha Next Economy investment model identifies companies that will allow humankind to maintain and improve our standards of living while simultaneously reducing our planetary impact. To get from today's legacy economy to the economy of the future requires a transition from unfettered consumption to innovative sustainability. Our Next Economy thesis is based on investments in the following areas of innovation: power derived entirely from renewable energy, a closed-loop system where all materials can be recycled with zero waste, products and services that have a negligible footprint on earth's ecology while still addressing human needs and wants, and a move from short-term resource gluttony to long-term resource management.
---
Green Alpha's Next Economy Sector Map
In order for the economy of the future to support people and the planet indefinitely it must reflect the broad range of human needs and desires. The Green Alpha Next Economy map is an overlay of sustainable principles on traditional investment sectors. It reflects practical, achievable and innovative approaches to population growth, resource scarcity and climate change.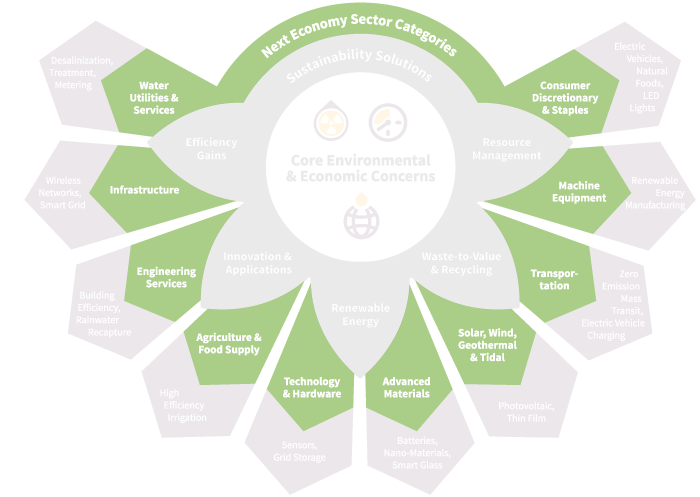 ---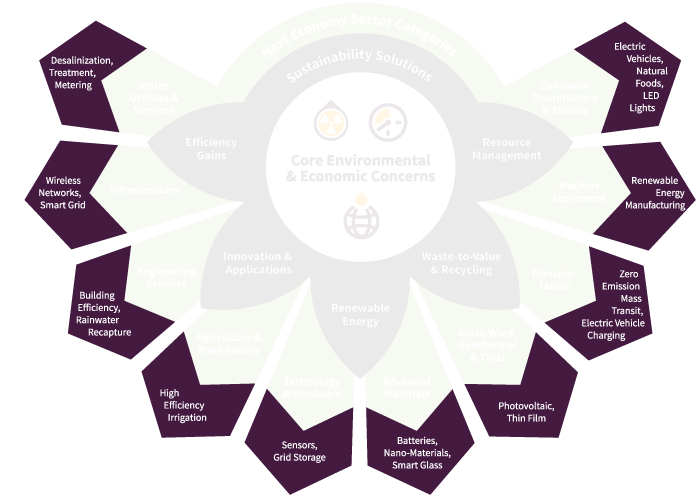 The Eco-Efficient Frontier
Green Alpha Advisors develops financial and investment models that span global industries, business types and products. Our Next Economy investment candidates are vetted using sustainability criteria as well as time tested growth and valuation methodologies. We pair scientific research with rigorous financial and operating due diligence to define the eco-efficient frontier of the Next Economy.