Originally published by U.S. News http://money.usnews.com/investing/articles/2016-12-08/what-happens-to-clean-energy-investing-now?src=usn_tw
By Debbie Carlson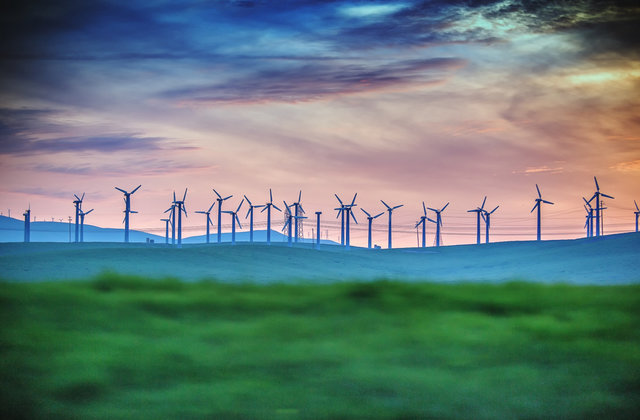 Alternative energy stocks fell sharply after the presidential election in early November as President-elect Donald Trump advocates for loosening restrictions on fossil-fuel production and calls climate change a hoax.
Many investors took that as a sign that the outlook for clean energy would be diminished, and they pressured stocks of companies like First Solar (ticker: FSLR), SunPower Corp. (SPWR) and Vestas Wind.
That weakness compounded some of the issues already affecting the solar industry this year, which is in a cyclical investment downturn, says Michael Grant, senior vice president and senior co-portfolio manager for the Calamos Phineus Long/Short Fund (CPLSX) in San Francisco.
Solar "has been under pressure because it's a cyclical industry driven by the heavy capital investment cycles related to capacity," he says. "Capacity growth in solar is still quite rapid. The problem for many solar companies is they build capacity, but balance that capacity growth against falling prices. So what we've been in is a cyclical investment downturn that has been exacerbated by excess capacity in China."
For example, First Solar is down nearly 50 percent for the year. It saw the biggest drop after the election, falling from around $40 to as low as $28.60 before rebounding. SunPower is down more than 70 percent this year. Vestas Wind, which trades on lesser-used over-the-counter markets, has fared slightly better but is still down about 3 percent for the year.
Will the clean-energy sector fade away, given its own issues and the chance of less-friendly public policy under Trump's administration? Experts who watch the space say clean energy has reached critical mass as part of energy production in the long-term, but in the short-term it may be stressed.
Federal subsidies may dwindle.
Angelo Zino, senior equity analyst at CFRA, says under the Obama administration
the solar industry
had "an unbelievable run."
Much of that came from the federal solar investment tax credit, first passed in 2006. The Solar Energy Industries Association estimates that solar saw a compounded annual growth rate of nearly 60 percent in the last decade
Under a Trump presidency and a Republican-controlled Congress, there is greater chance this tax credit will be significantly reduced or eliminated, Zino says. The credit stands at 30 percent, and Zino says it's likely it could fall to 10 percent or less at some point in the next four years.
"I don't know if it's at the top of his (Trump's) agenda, but I do think definitely there's heightened risk of it going away," Zino says. "As a result, solar stocks will be pressured here in the intermediate term."
If those incentives are cut, Zino forecasts a steep demand drop, although the industry won't completely falter.
"If those incentives get cut, we see the potential for solar demand in the U.S. to drop as much as 60 or 70 percent in a year-over-year basis. It would be an absolute catastrophe in our view," he says.
Clean energy is still vital. Garvin Jabusch, chief investment officer at Green Alpha Advisors in Boulder, Colorado, says while many people believe in renewable energy and that it will contribute a greater percentage to the total U.S. energy mix, now is a tough time for the sector.
"It is undeniable that a Republican administration, especially one staffed with a bunch of people who are climate deniers, can cause some headwinds, especially in the short term," Jabusch says.
Yet Grant says concerns over falling federal subsidies may be overblown. He says much of the clean-energy regulation comes from the states, and many state programs are likely to remain. Plus, he says, the energy debate is not an either-or choice when it comes to traditional and alternative energy.
"I think Trump is much more about driving economic growth and jobs. And that is his motivation for lifting some of the restrictions on traditional fossil fuels and encouraging greater oil and gas exploration," Grant says. "He doesn't necessarily want to shut down the clean energy side of the equation. I think that ultimately is a plus for the industry, even though the short-term sentiment is negative."
Meg Voorhes, director of research for Washington-based US SIF: The Forum for Sustainable and Responsible Investment, says concerns over climate change remain important for institutional investors and money managers.
"We wouldn't expect a falloff of interest in climate change and clean-energy investing," she says. "The seas are rising. Investors can't ignore the physical aspects of climate change."
In its survey, US SIF said $1.42 trillion in money manager assets and $2.15 trillion in institutional investor assets were focused on mitigating climate change, which was more than three times the amounts in 2014.
Where to go from here. Zino says his concern about a change in U.S. clean-energy policy could have ramifications worldwide.
"Our fear is if all a sudden you were to see the U.S. pull out of the Paris climate talks, and there's a reduction in the incentives, many other regions of the world may follow suit," Zino says, referring comments on the campaign trail by Trump that he would not participate in the Paris climate talks, which were a global effort to cut greenhouse gas emissions, by country.
Because of this, Zino has a negative tilt on the industry and issued sell notices on Solaredge Technologies (
SEDG
), which optimizes power for photovoltaic panels and faces increased competition from other manufacturers, and JinkoSolar Holding Co. (
JKS
), a high-margin company which sells most of its panels in the U.S. and China.
Yet Jabusch and Grant differ in their views from Zino. Jabusch says he still likes First Solar, SunPower and Vestas. For investors who have an appetite to buy foreign-based companies, he likes Chinese firm JA Solar Holdings Co. (JASO) because it doesn't have much business in the U.S.
Grant says right now the fund has no position in alternative energy because of the short-term pressures, but he's interested in the long-term view.
"We're within one to two quarters of some very attractive long-term entry points in these names. I definitely think on a two-to-three year view a number of these solar names are quite attractive," Grant says.