By Betsy Moszeter, Chief Operating Officer, Green Alpha Advisors
Meris Collier, Collier Sustainable Wealth Management
Sustainability is all the talk in wealth management these days. But how does one judiciously go about incorporating sustainability parameters into client portfolios?
Earlier this year, we co-presented a seminar for clients in Seattle on sustainable wealth planning, management and investing.  We learned a lot from each other about what clients know, what they're confused about, what they want and how we can work together to serve them holistically.  A mindful approach makes good common sense for everyone involved, as better decisions about a client's financial future will surely be made in the presence of more information.
Meris has been a financial planner and advisor for 10 years, and during that time she has seen interest in socially responsible investing increase significantly.  When she first began to take over her family's wealth management business a decade ago, it was rare for her to receive questions from either prospective or current clients about socially responsible investing.  Hardly anyone knew much about it, and those who did were not actively looking to make it a part (or all) of their investment portfolio.
Lately however, Meris has experienced a measurable increase in prospects and clients wanting to learn about aligning their investment portfolios with their values and concerns for the future.  They want to put their money with people they trust, and they want their investments to be driving progress toward a more sustainable economy.
Meris isn't alone – the frequency with which reports are being published on the growing demand for sustainable investment vehicles is staggering.  A notable example from WealthManagement.com states that 60% of advisors surveyed think utilizing sustainable investment vehicles will become a larger part of their practice, with 72% reporting that high client demand is the reason they have offered or plan to offer SRI vehicles to clients.
Meris has seen this shift in her own practice. When she started giving financial planning and investment advice, all of her clients were in traditional backward-looking investments that didn't factor in the impact of their activities on the planet or the future risk profile of our economy.  Today, about 30% of her clients now have sustainable, responsible, impact investment portfolios and that is growing quickly.
Impact investing has evolved from a small investment niche to a much more widely used method of selecting investments, which is a strong step in the right direction and a sign that the investment industry is evolving to better factor in current economic assumptions and the world's dynamic risk paradigm.  The Forum for Sustainable and Responsible Investment (US SIF) reports that $6.6 Trillion is invested in strategies focused on environmental, social and corporate governance causes, up 76% between 2012 and 2014.
"I think there is finally enough data out there to convince people that impact investing is a powerful way to create change, and in many cases you don't have to give up market-rate performance.  On the contrary, sustainable investments are a fantastic way to strive to outperform the broad market for the foreseeable future," Meris said. "I am always excited for a client when they have their financial lives on track and they are helping to create the world they want to see."
At Green Alpha, we couldn't agree more.  An investment portfolio is simply a portfolio manager's vision of the future; it's an investment in the sectors and companies where a manger expects growth to occur.  For those who believe the global economy is evolving to become more sustainable, impact is a clear place for an equity allocation.
As a consumer, it is always important to think about what you're buying and what its impact is.  That's no different if you're talking about purchasing financial planning advice, or an investment portfolio.  When hiring a financial advisor, you need to ensure their vision of the future aligns with yours, so that you can work together to plan accordingly.  When purchasing a mutual fund or other investment portfolio, you need to look at the sectors and stocks held in the portfolio and think about whether that is the future you see unfolding and whether that's the economy you want to see emerging.
However, while we're heartened by the increase in consumer desire to purchase more robust forward-looking investment vehicles, it's difficult to find the right investments.  Investment companies stand to benefit by luring in new advisors and clients, so their marketing messages can be confusing and sometimes misleading.  How scary is that?  No wonder many advisors and consumers are too terrified to change their portfolios!  Fortunately, better tools and analysis are emerging, making practical evaluation of a manager's impact simpler all the time.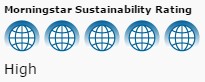 Morningstar Sustainability Ratings. Earlier this year, Morningstar released its first sustainability ratings on a large number of mutual funds, using Sustainalytics stock-specific research to give a mutual fund an overall rating for how well the portfolio contributes to the forward-looking health of our environment and economy.  Using the free Morningstar.com website, any consumer or wealth advisor can look up a mutual fund and see its rating.  The rating is in the middle, right-hand side of the screen and is denoted by the number of 'globes' on a 1-5 rating basis.  We encourage everyone to look at their 401(k), IRA or other investment statements to see what funds you hold and enter those funds into Morningstar.com to see how sustainable (or not) your funds really are.
Fossil Free Funds. Another tool that is free to all investors is FossilFreeFunds.org.  As You Sow, an organization that promotes environmental and social corporate responsibility through shareholder advocacy, created this online tool to help investors understand what's in their 401(k), 403(b) or other retirement plans.  The tool evaluates over 6,500 funds on five metrics, and tells you how the actual holdings stand up.
In fact the whole creation of this tool is very telling about how hard it is for investors to understand just what vision of the future they're investing in, and choosing, by holding the portfolios they hold.  As You Sow is very active in the proxy voting and shareowner engagement portions of the SRI industry.  They realized that they were unaware that their own 401(k) plan was composed of mutual funds that held major oil, gas and coal extraction companies.  If they had no idea, how could the average investor know?  Thank goodness for the free, publicly available tools coming online to serve the growing demand for sustainable investments!
Fueled by younger investors, women, and growing institutional support, sustainable and impact investing continues to gain momentum among advisors and investors.  As the industry evolves and increasingly large amounts of money move into sustainable investment vehicles, continuing education is key!  Clients should use the free tools at their disposal to understand exactly what they own and; therefore, what kind of a future they're contributing to.
However, it's really incumbent on financial professionals to weed through the marketing rhetoric to understand how specific portfolios are being invested, to help their clients choose investments that align with their vision of the future.  Collier Sustainable Wealth Management and Green Alpha Advisors are committed to remaining at the forefront of education and innovation, to work in partnership to serve mutual clients.
###
Important Disclosures https://greenalphaadvisors.com/about-us/legal-disclaimers/