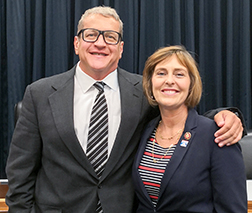 Many of you have been following Green Alpha Investments and our insights for years, and for that we're grateful. Those who have may recall the important testimony we were asked to deliver to the House of Representatives' Select Committee on the Climate Crisis in July of 2019. They called in a variety of experts and Green Alpha was the sole investing voice asked to speak on "Creating a Climate Resilient America: Business Views on the Costs of the Climate Crisis."
Here at Green Alpha, we can't help but think back to that testimony and follow-on discussions we had with such powerful politicians in light of all the ESG-related activity and press coverage on Capital Hill in recent months. Our CIO, Garvin Jabusch, recorded this audio content to share thoughts about then and now. Please enjoy.

Green Alpha is a registered trademark of Green Alpha Advisors, LLC. Green Alpha Investments is a registered trade name of Green Alpha Advisors, LLC. Green Alpha also owns the trademarks to "Next Economy," "Investing in the Next Economy," and "Investing for the Next Economy." Green Alpha Advisors, LLC is an investment advisor registered with the U.S. SEC Registration as an investment advisor does not imply any certain level of skill or training.
At the time this article was published, Green Alpha Advisors did not hold client assets in the S&P 500 Index or tracking vehicles, nor in Chevron (ticker CVX). These securities do not represent all of the securities purchased, sold, or recommended for advisory clients. You may request a list of all recommendations made by Green Alpha in the past year by emailing a request to any of us. It should not be assumed that the recommendations made in the past or future were or will be profitable or will equal the performance of the securities cited as examples in this article.
Please see additional important disclosures here: https://greenalphaadvisors.com/about-us/legal-disclaimers/