Anthropologist, MBA and former Morgan Stanley exec founded a green finance firm – now he's even testifying before Congress on climate change.
Article written by Monica Vendituoli, published by the Denver Business Journal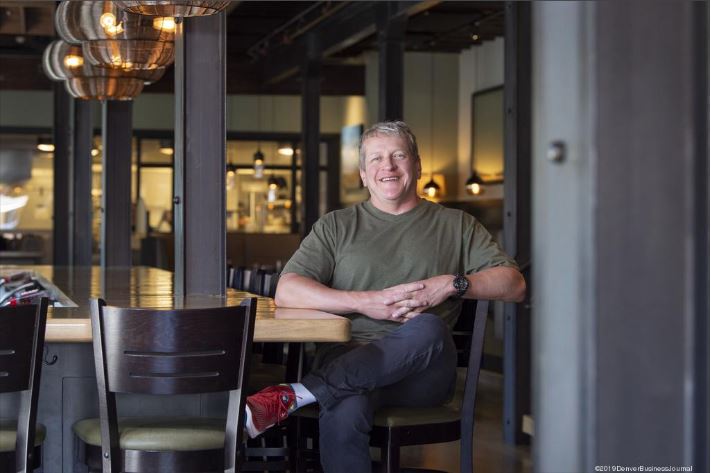 From digging the remains of collapsed civilizations to coordinating European acquisitions as a Morgan Stanley executive, Garvin Jabusch has explored different professional worlds throughout his career. And the chief investment officer of environmentally friendly investing firm Green Alpha Advisors says those experiences have mapped his perspective on how to impact climate change through investment choices.
"Today there are so many interesting problems to work on that require or benefit from interdisciplinary thinking," Jabusch said. "Bringing a different background to a new industry can shake it up — and that's what I'm doing."
Jabusch is known nationwide for his work. The Rocky Mountains chapter of E-2, a national, nonpartisan environmental-sustainability business-advocacy group, asked Jabusch to testify before the U.S. House Select Committee on the climate crisis on behalf of the organization in July.
Jabusch is the first asset manager to ever testify before the committee.
"They wanted to have a hearing on business and investing and what they are doing in light of the climate crisis," Jabusch said. "If I can influence policy even a little, and nudge the country on to a more sustainable future, it would be wrong of me not to."
As a child, Jabusch said he was always fascinated with why humans follow their tribe, despite it possibly being harmful to them, as in the case of climate change. This led him to enroll in the University of Utah's doctorate program in physical anthropology after receiving his bachelor's and master's degrees in the subject.
As a student, Garvin served as the director for an American expedition to Petra, Jordan, for two excavation seasons; he also served as a crew chief at many excavation sites in the U.S.
"One of the things we noticed during excavations was that most of the time when a civilization collapsed, it was some combination of some kind of change in the local climate and a rapid rise in inequality," Jabusch said. "The climate crisis today is a production function of the economy — how we make stuff — and is causing those things."
Jabusch said he hoped to work as a consultant or professor of anthropology after graduating, but that a lack of jobs in the field led him to drop out of his doctorate program.
"If you want to stay in the field, there are only a couple of choices," Jabusch said. "There's independent consulting, and tenure-track jobs as professors are super hard to come by — and they are becoming even more scarce."
Jabusch then enrolled in the Thunderbird School of Global Management at Arizona State University's Master of Business Administration program and hoped to work as a foreign-service officer. After graduating, he took the Foreign Service Officer Test and passed. However, he was told that it could take up to two years for him to be placed.
"I couldn't wait around, so I accepted a job at Morgan Stanley," Jabusch said.
He eventually rose to the position of vice president of strategic services at the investment bank. In that role, he helped integrate European acquisitions and sell one of the bank's wealth-management products, Morgan Stanley Online.
But he still held an interest in how humans interact with the environment when he was later recruited to work at investment firm Forward Management. There he managed the firm's green investing funds, the Sierra Club Stock Fund and the Sierra Club Equity Income Fund. He built a "green" portfolio made up of only companies that met certain environmentally friendly criteria.
Though at first it was difficult to leave his job at Morgan Stanley due to its name recognition, Jabusch said, he's never looked back.
"No matter how big the brand is … even if its Apple, if you feel like that firm or that brand or, more particularly, your role no longer serves what you find meaningful, it no longer matters," Jabusch said. "You should then move to a different brand or start your own thing."
While building environmentally focused products at Forward Management, Jabusch said he soon got the itch to try an even more radical investment strategy. He cofounded Green Alpha Advisors in 2007 with Forward Management CFO Jeremy Deems and launched the firm's first fund in 2008, just as the Great Recession was rearing its head.
"It took us a year and a half to fully realize the philosophy, and adapt it into an investment strategy, which later resulted in the mutual fund," Jabusch said. "The investments that we make on behalf of our clients are 100% in companies creating the most innovative solutions to our greatest systemic risks: climate change, resource scarcity and degradation, and widening inequality."
Green Alpha Advisor clients typically fit into three categories: first, tech and innovation growth investors, impact investors second, and third, people looking for diversification in their portfolio who view Green Alpha Advisor's strategy as a liquid alternative — similar to hedge funds.
Green Alpha Advisors launched in San Francisco, but the firm's headquarters moved to Boulder eight years ago. A combination of the Bay Area's high overhead and cofounder Deems' desire to start a family led to the decision, Jabusch said. "He decided it would be a better environment to raise kids in," Jabusch said.
Jabusch has also grown to enjoy Colorado, as he said it has a similar environment to Utah where he grew up.
In the next few years, Jabusch said he has two goals for Green Alpha Advisors: First off, he hopes to increase the firm's current assets under management from its current $200 million.
"In our industry, to really be taken seriously, you need $1 billion," Jabusch said.
Secondly, Jabusch said he hopes to help inspire a movement to create more forprofit green investment firms throughout the U.S. He believes that's the only way that asset managers will be able to deter climate change and inequality.
"I want Green Alpha Advisors to be leading the movement, but I want 20 more of us," Jabusch said.

###
At the time this article was published, Green Alpha held some client assets in Apple (ticker AAPL). The companies identified in this blog do not represent all of the securities purchased, sold or recommended for advisory clients. You may request a list of all recommendations made by Green Alpha in the past year by emailing a request to info@greenalphaadvisors.com. It should not be assumed that the recommendations made in the past or future were or will be profitable, or will equal the performance of the securities cites as examples in this document. Additional important disclosures should be read here https://greenalphaadvisors.com/about-us/legal-disclaimers/