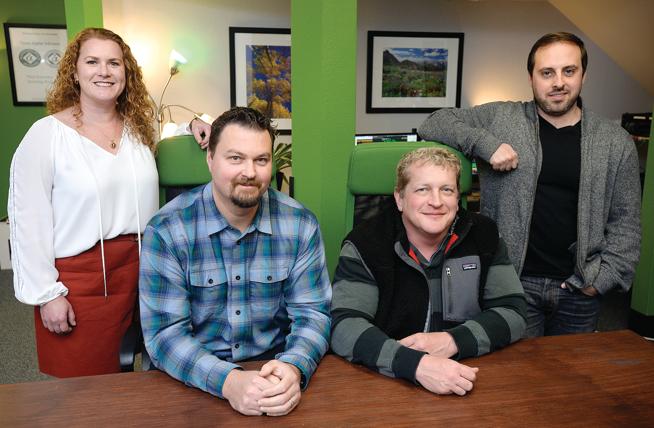 Originally published in the Daily Camera http://www.dailycamera.com/boulder-business/ci_29919198/5-questions-green-alpha-advisors-about-sustainable-asset
By Shay Castle
In Boulder County, it sometimes seems like everything is "green." But when it comes to money? Not so much. A local asset management firm, Green Alpha Advisors, is hoping to change that with an environmentally friendly portfolio devoid of fossil fuel companies and focused on the "next economy."
We sat down with the team to learn more:
Why is having a fossil fuel-free portfolio so important?
Kristin Hull: Wall Street is built on the modern portfolio theory, which is based on this idea of an infinite planet with infinite resources that any company could use to come up with infinite returns. We're saying the planet has limits. We're saying that investment theory should be based on the planet and the reality of its limits.
Garvin Jabusch: Our approach in building a portfolio is to throw out what Wall Street does because they're stuck in the old economy. Our portfolios are built on the next economy, the de-risked economy. We have five different portfolio strategies, all come from a place of thinking about an economy that can thrive indefinitely. Each has a slightly different way of going about that.
What's is one of your strategies and why is it part of your ethos?
Jabusch: In general, we focus on gender and equality. We greatly prefer it in our portfolios, but we have one specific product, Nia Global Solutions, that every company in that portfolio has women in executive positions or on the board of directors.
Hull: I co-founded Nia, and merged with Green Alpha in December.  Our data shows that companies with women either on the board or in leadership positions perform better over the long term. They have better stock returns, meetings are more likely to start on time, and the company generally takes a more long-term strategy.
Have people been receptive to your strategy? Why or why not?
Jabusch: In the financial world, they definitely were not. The party line was if you give a [expletive] about the environment you make a ton of money and then donate it. There was no way for investment and environment to collide
Jeremy Deems: Just a few years ago you couldn't find a bank that wouldn't laugh you out of the room if you mentioned sustainability in investing. There's a powerful wave of change driving consumer behavior but it hasn't yet translated into investing behavior in a big way.
Jabusch: People like to buy organic and bike to work but in their IRAs if the adviser says 'Stick with the S&P 500,' they'll say 'Let's do that, of course.' There are 59 fossil fuel companies in the S&P 500. It's driving some of the biggest problems confronting civilization. Is it even a smart investment anymore?
Hull: Most of us don't know what we hold anyway. We're so separate from our money. But people are waking up to it.
What's causing them to wake up?
Hull: One thing helping this is the divest movement that started on college campuses. This movement is asking, 'What side of history do you want to be on?' The fact that the climate is warming is going to be noticeable to everybody soon. Also, I think a lot of people want to get into this (but) the barriers to entry are so high. We're trying to democratize that.
Deems: Historically, this type of investment has been done by banks, private equity or (through) philanthropic (means). They require butt loads of cash, and that excludes the rest of us who no longer have pensions. Other than consumer choice changes, how do we participate in the revolution? You can invest $500 in an IRA and start an account with our mutual fund.
Are you making people money?
Deems: Our mutual fund launched in March 2013 and in 2014 it was in the top 1 percent of funds in our size category, as rated by Morningstar. The next year we were in the top eight percent of funds in our category. We're slightly ahead of the S&P 500.
Jabusch: We've got about $70 million under management. We've been very pleased with our growth.
Deems: Are we still in the first inning? Absolutely. But we're doing well.
###
Important Disclosures https://greenalphaadvisors.com/about-us/legal-disclaimers/